This fortnight's challenge at
Top Tip Tuesday
is Spotty Dotty. I've made a box in a bag using cute Toby bear from Stampfairy, and I've also done a tutorial on how to make this bag which I'm sharing with you too.
You can make these bags to any dimensions that you want, but I've made my finished gift-bag 6 inches (15 cm) wide and 2 inches (5 cm) deep so that it is suitable to hold my cards, which are about 5 inches (12.5 cm) square.
Here's my finished gift-bag so you can see what we're aiming for !!
Ok, firstly let's look at the supplies you're going to need:
Thick card for the 'box' base size 19cm x 9cm (dark blue in pic)
Patterned papers (I've used 2 pieces each 25cm x 15cm which means you can get both out of a 12" x 12" square scrapping page if you want)
Tabs for the handles (see later if you don't have these as I cheated for mine !)
Decorations - ribbon, brads, embellishments, border punch (for base strip)
Let's get started !!
Step 1 :
Score your base card 2cm inside each edge as shown in the picture below.
Cut 2cm on the scoreline on the longer edge (the short scoreline shown in red below)
Step 2 :
Glue the tabs that you've just cut and fold them inwards,
so that the glue sticks to the inside of the longer edges
This should leave you with a shallow box shape which is your desired size
In my case this is 15cm x 5cm
Step 3 :
Because I am using 2 sheets of patterned paper, I allowed for some overlap.
Therefore, starting on the shorter edge, using double sided tape, stick the patterned paper along the base of the box and wrap it around each side.
In my case, being 25cm, it has wrapped around 3 sides
(ie the 5cm short side + 15cm long side + 5cm other short edge)
Step 4 :
Wrap the second piece of patterned paper on the other side, starting at the short side again, so that it wraps around the short side, long side, and other short side.
Both short sides are therefore overlapped and double thickness.
Tip :
You could use one long piece of patterned card, or stick your two pieces together to make one long piece before you start sticking it to the box base if you prefer.
Below shows the finished basic box in a bag shape.
You can just see the darker base box in the bottom of the bag.
Step 5 :
Put 2 tabs on each side of the top (to attach your handles to)
In my case, I didn't have tab die cuts so I cheated (see below)
Try to get them evenly spaced from each side, and the same distance apart front and back.
Tip :
Ok so I didn't have a tab cutter, but I did have a Quickutz tag die.
I folded a piece of the matching card in half using a bone folder to get a nice crease.
I then placed the folded edge half way into the die, and cut !!!
You can see the result still in the die (I removed the excess card) on the picture below.
Then I rounded the corners of the folded edge.
Not bad, huh !!!
OK, back to business ...
Step 6 :
Attach your ribbon handles, I've used brads pushed through the tabs.
(make sure both handles are the same length !!!)
I've also cut a long strip of matching card and punched the edge with a pretty border design. Then I've wrapped this all around the base of the card, making sure the joins are at the side where they won't be seen as much from front or back.
Step 7 :
Now comes the fun part ...
I've added an image (Toby Everyday Angel from our sponsors Stampfairy), backed with matching card.
I've used embellies in complementary colours, and of course some glitter.
I think that last part (the glitter) is compulsory !!!
The sentiment is actually 'confetti' from a wedding I attended
(I knew a small handful would come in useful sometime)
And don't forget the back of your bag.
I added just a little bit of decoration in the form of a heart die cut, so that it is still cute from the rear!
I hope you enjoyed the tutorial, and hope that some of you will use it to make something dotty for our challenge this fortnight.
I look forward to seeing your creations.
Bag Recipe:
Image - Toby Everyday Angel from Stampfairy
Sentiment - Confetti
Colouring - Promarkers, Copics, Sakura Stardust Gel pens
Nesties - Labels 3
Dies - Quickutz tag, Memory Box Heart
Punch - Martha Stewart Doily border punch
Cherry Blossom, 10mm & 15mm roses - Wild Orchid Crafts
From my stash - Brads, butterfly, ribbon, glossy accents
Please pop on over to the
Top Tip Tuesday Challenge Blog
to see the other creations by the talented design team, and to enter our challenge. I look forward to seeing your creations this week.
We're sponsored by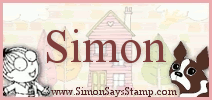 I've been inspired by:
Happy crafting.